David Beckham biography and photos
David Robert Joseph Beckham was born on May 2, 1975, in Leytonstone, England, son of Ted Beckham, a kitchen fitter, and Sandra West, a hairdresser. He grew up in a working-class East London family of ardent Manchester United soccer fans.
David's dream of becoming a footballer began when he was about 8 years old. His first team Ridgeway Rovers was taken up in the local newspaper when they won the Fyfield five-a-side soccer tournament. In a later match they won 23-0! The article said that Big had played an outstanding game on the right wing. In the next three years, Beckham was scoring more than a hundred goals of the Enfield District League; at 11, watching Blue Peter, he saw a piece about Bobby Charlton's Soccer Skills Tournament. He won, with the highest score ever, and he won at Old Trafford, the home of the tournament and of Manchester United. The lifelong devotion of Beckham to United - "There was never another team for me" - said his father, was a source of some puzzlement to his resolutely southern friends and team-mates.  When his mother tells him Manchester United wants him to try out for their youth league, he "just stood there and cried," Beckham says in Sports Illustrated. In 1986 he was a Manchester United's mascot for a match against West Ham United.
Beckham leaves home at 16 to play for the training division of his favorite club, Manchester United, a legendary English soccer team with more than fifty million fans worldwide. He works on developing his signature free kicks, passing and corner kicks – skills that later make him known for his deadly accurate, game-clinching goals. Beckham's career began when he signed a professional contract with Manchester United, making his first first-team appearance in 1992, at the age of 17. While with Manchester United he played a key role in their dominance of the FA Premier League, being pivotal in accomplishing The Treble of the League, FA Cup, and UEFA Champions League in 1999.
From 1992 - 2003 Beckham made almost 400 appearances for Manchester United and scored 85 goals, although his official record counts only 62 goals in 265 official senior team's matches. In the 1998 FIFA World Cup he played all of England's qualifying matches and scored in several important victories. His career did have a few rough moments, the most notable one being in 1998 with the English national side, at that year's World Cup. In the Second Round, where England would play Argentina, Beckham was taunted by Argentinean midfielder Diego Simeone and he responded with a swing towards the player, which earned him a red card for bad behavior on the pitch. With England losing the match and being knocked out of the tournament, all blame fell on David Beckham, as the English newspapers put him against the wall and fired up some poisonous articles. Any other player would have stayed low, or even quit soccer, but David Beckham's ambition brought him back to the top. His performance with Manchester the following year, earned him back the respect of his fans and the entire world.
Beckham's highly publicised marriage to Spice Girl and media celebrity Victoria Adams, otherwise known as Posh Spice, has made them both popular targets for the tabloid press, which has dubbed the couple "Posh and Becks". They have two sons, Brooklyn, born March 4, 1999 and Romeo, born September 1, 2002. Beckham is well-known for his frequent hairstyle changes and has changed his hairstyle for many times after being criticised for influencing teenagers' hairstyle.
David Beckham is, according to the Google[1] (http://www.google.com/press/zeitgeist2003.html) search engine, the most famous sports personality in the world, however the producers of The Simpsons decided that he wasn't famous enough to make a cameo appearance in an episode of the show set in London. Also he's the most famous metrosexual.
He had a good season in 1999 - 2000 and helped Manchester United to win the Premier League. That same year Beckham was given a permission to miss training routine, in order to look after his son Brooklyn, who suffered from a stomach infection. Meanwhile, the Manchester United's manager, Alex Ferguson, fined Beckham £50,000 (about $80,000 then) the maximum amount that was permitted, for babysitting with his sick child, while his wife was spotted at a London fashion Week event on the same night. Ferguson's claim that Beckham should be able to train if his wife stayed home that day, caused a serious personal tension between two men. In February 2003, following the defeat to Arsenal, the Manchester United's manager Alex Ferguson entered the changing room and kicked a football boot that struck Beckham over the eye, causing a cut that required stitches.
By the time David Beckham moved to Real Madrid in 2003, he was already a well-known star on the international stage. He signed a four-year contract with Real Madrid, beginning on July 1, 2003, and worth a potential 40 million dollars. In Madrid, Beckham was not allowed to wear his favorite number seven, because another player had the right to wear it written into his contract. Beckham decided to wear the number 23 instead, being a big fan of Michael Jordan. Apart from benefiting from his football ability, this transfer gives the Spanish club an opportunity to profit from merchandising, especially in the Far East, where Beckham is enormously popular, and Manchester United have until now had the lion's share of interest. It is probably no coincidence that Beckham was transferred just before Real started a far-eastern tour. At the time of the announcement of his transfer to Real Madrid, Beckham and his wife (Victoria) were on a week-long tour of Japan, Vietnam, Malaysia, and Thailand promoting beauty products, chocolate, motor oil, and mobile phones, which it was reported would earn them more than the entire first year of his Real Madrid contract. (Western journalists are excluded from the Japanese "press conferences" organised by his sponsors because of the embarrassment they would cause him in the West.)
In his four years with the Madrid club he managed to win the Spanish league once, but his performance was deemed poorer than what he was playing at Manchester. Many attributed this loss of form due to the new system found at Real and the fact that at Madrid he wasn't the "star" of the team anymore, since he was playing next to other internationally famous soccer players like Zinedine Zidane, Raul or Roberto Carlos.
In entertainment news, Beckham became an even bigger name when the sleeper hit of 2003, Bend It Like Beckham, paid homage to the soccer player in its title. Beckham is also getting press as the poster boy for "metrosexuals" worldwide. Lately, Beckham has been in the news for the wrong reasons. Rebecca Loos, his former personal assistant, has admitted that they had an affair, causing speculation that his marriage to Victoria Beckham is in trouble. The News of the World, a UK newspaper, also published an explicit transcript of the text messages exchanged between David Beckham and Rebecca Loos, and unidentified sources claim the pair had sex at the hotel Beckham was living in when he first arrived in Spain to play for Real Madrid.
In 2005 Beckham became a UNICEF Goodwill Ambassador. He was also involved in promoting London's successful bid for the 2012 Olympic Games. His third season in Madrid was unremarkable, and he was criticized a lot, mainly because the team finished second to Barcelona in Spanish "La Liga" and lost to Arsenal in the European Champions League. However, during that season, he expanded his international presence by establishing football academies in Los Angeles and East London. During the FIFA World Cup 2006, he played for England, and became the first ever English player to score in three World Cups. In the quarter final game against Portugal, Beckham was replaced because of his injury in the middle of the game. Without him the English team lost and was knocked out of the World Cup.
In June 2007 Beckham played his final game for Real Madrid, winning a medal and celebrating with his friends Tom and Katie Cruse, who attended the game. This was his fourth, and last season there, ending his contract with the club.
Beckham leads Real Madrid to success over MLS All-Stars David Beckham contributed a lot to the victory of Real Madrid over MLS All-Stars in a friendly match. In the game whose result was the impressive 5-0 David scored 1 goal in the first half and gave a winning pass to Ronaldo for the second goal. He announced that he had signed a five-year contract to play for the Los Angeles Galaxy from July 1, 2007 through June 2012. The 5-year deal includes up to $10 million a year in direct salary, and with merchandising endorsements and profit-sharing could earn Beckham up to $50 million a year, and may end up worth about $250 million in five years, making him one of the highest earning athletes of all time.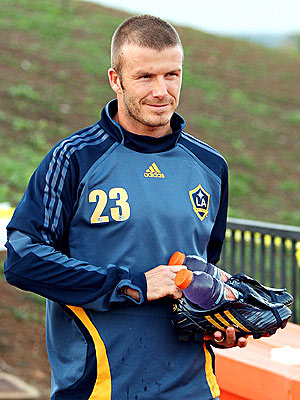 Related Posts