George Clooney's Bio, a really handsome guy.
George Timothy Clooney was born on May 6, 1961 in Lexington, Kentucky to his loving parents Nick and Nina Clooney. Nick worked as a local broadcast journalist, and had to move his family frequently as his career entailed. Because Nick didn't have a great childhood, he made a point to include George and Ada in his life experiences. Frequently he took them to the studio with him, teaching them the ins and outs of broadcast journalism. Ada, was shy and did not enjoy the limelight. George Clooney on the other hand was a natural. He played a Leprechaun for St. Patrick's day and the Easter Bunny. Dressing up in the costumes and acting the part so his father could interview him. As he grew George he learned the more technical aspect of television. Working behind the scenes of his Fathers television show. All though he was raised in the business, he vowed never to enter into it. It seemed that he had bigger dreams.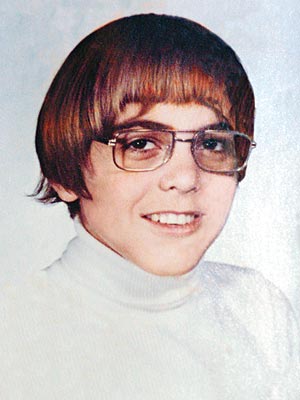 At the age of 15 he saw the movie "The Pride of the Yankees: That was it for him, he knew what he wanted to do from that point forward. He wanted to play professional baseball for his beloved Cincinnati Reds. He dreamt to be just like Lou Gehrig. To have millions of adoring fans in the palm of his hand. The day after watching the movie, he was in church and started to feel a strange tingling sensation on the left side of his face. Later during lunch, he tried to ignore the feeling in his face but, when he went to take a drink of milk, it dribbled down his chin as if his face had fallen asleep. His parents took him to the doctor and found out the disturbing news. George was suffering from Bell's palsy, a paralyzing disease that affects one facial hemisphere. As a 15 year-old boy he was absolutely horrified. Doctors said that the disease can run its course in a matter of weeks or months, however, the effects can last years or worse never correct itself. However, because George was the clown that he was, his face already had remarkable elasticity. The disease ran its course and his features were corrected in a matter of time.
George Clooney attended college in Kentucky, he quickly became bored with it. In his owns words he said "I partied allot, got drunk allot" He drifted about not knowing exactly what he wanted to do with his life. He received a call from his cousin Miguel Ferrer. Miguel was in Kentucky filming a movie. He talked George into coming to location to hang out. While on location, he landed a small role in the film. Miguel said they partied for the whole three months. George suddenly came to the realization that this is what he wanted to do. He had made up his mind that he was going to move to Hollywood. His parents on the other hand didn't take the news very well. His father kept trying to tell him that he needed to stay in college so that he would have something to fall back on. George's reply was "If I have something to fall back on, then I will" His father explained to him that if this was something he wanted to do he would have to save the money to move. George proceeded to work various odd jobs, selling women's shoes, cutting tobacco. He worked hard and finally saved up enough to purchase a beat up 1976 Monte Carlo, (affectionately known as "The Danger Car"). With $300 in his pocket he took off for his Aunt Rosemary's home in Hollywood. The agreement he had with his aunt was that while he lived there he would earn his keep by completing small jobs. He did not enjoy completing the assigned tasks when asked and soon Rosemary caught him. Apparently she asked him to paint a fence for her. George playing a type of Huck Finn role in real life, painted the side of the fence she could see from her window. This did not go over well and he moved out.
Clooney moved into a friend's house and slept in the closet. Diligently he went from audition to audition. Landing brief roles in various TV Pilots. None of which got picked up by the networks. In his own words he describes this experience as "I've done a lot of very bad television, and I've been very bad in a lot of bad television". Finally, he received a break and landed a role on the Facts Of Life. It did not last very long. The Facts of Life was at the end of its television life. After The Facts of Life, he landed a role as Booker on Roseanne, then Falconer on Sisters. Because of George's good looks he was having a hard time being taken seriously in Hollywood. For example, when he played Booker on the Roseanne show, we were supposed to hate his guts. But, the producers were finding out very quickly that this was not the case. Women couldn't wait to see him. No matter how mean he was. Around the same time he landed some brief movie roles. Such as, "The Return of the Killer Tomatoes", "Return to Horror High", and "Red Surf". Then finally after all of the years of hard work came his big break. He read for, and received the role of Dr. Douglas Ross for a new television pilot called ER. The new show was unique in that it dealt with the day to day lives of the Dr.'s and not the patients. America loved it! Finally, George got the recognition he had worked so hard for. The entire cast was thrust into the limelight. ER was a household hit and quickly climbed to number one. Making everybody in the cast a household name.
George Clooney found out that fame was both a blessing and a curse. A blessing because he finally had came to the realization of his dream, but also as curse because now he could not go anywhere without being recognized and scrutinized by the press. To squelch the tabloids early on in his career he let everyone know the skeletons in his closet. By letting them know everything he took the fun out of the digging.. About the only thing the tabloids came up with early in his career was that he was a drunk and a womanizer. No big deal, he just ignored it. After the success of ER, scripts came pouring in. He had the opportunity to be selective about which roles he would do. He came upon a script about from Quentin Tarantino and Robert Rodriguez called "From Disk Till Dawn". He read it and thought it would be interesting to do. He received the part of Seth Gecko and started shooting in Mexico. The character he played a not an exemplary upright American citizen. Seth Gecko was going to be a character the American viewing audience was not accustomed to seeing from George. When this movie came out I couldn't wait to see it. It was a whole other side of the George I had seen a little bit of in some of his earlier moves but I knew he would do a fantastic job as a bad guy. From Dusk Till Dawn is still one of my favorites. From that role, George was able to sit back and take his time choosing the role he would play next. Working at an extremely demanding pace between ER and whatever movie he was filming at the time. For almost the entire 5 years he was on ER he worked 7 days a week. Splitting his time up between his current movie and the set.
America was heart broken, all be it not surprised, that George Clooney chose not to renew his contract for ER. He fulfilled his contractual obligations with the show. Never once asking for more money. He was very happy for the opportunity the show gave him and also grateful that the producers assisted him with his schedule so that he could make movies. As of February 99, we all watched the heart wrenching end to Dr. Doug Ross's career at County General. At the time he left he stated that he would be glad to make a few guest appearances from time to time. When Julianna Marguiles announced she would not renew her contract the press went wild with stories of Doctor Ross coming back to sweep Carol Hathaway off her feet. The writers and producers of the show, as well as George, adamantly denied that he was ever going to be asked back. Then on the day Julianna's farewell episode was to air the news broke the Doctor Ross would make an appearance. It was what I believe to be one of the best kept secrets in Hollywood. George did get a little annoyed that the news had leaked because he did not want to take away from Julianna's departure. He was in her last episode for a total of about 1 minute. He was paid the minimum Screen Actors Guild fee for his performance. Shortly before that appearance George had pulled off television history. He produced and starred in "Fail Safe" live on CBS. "Fail Safe" was remake of the cold war drama starring Henry Fonda. With an extremely talented staff on board they pulled it off. It was wonderful and exciting to watch and taught the younger generation about the Cold War.
George Clooney is co-owner of Maysville Productions on the Warner Brothers lot. He produced "Fail Safe", "Metal God" using this outlet. However, rumor has it he is only going to use Maysville Productions for television productions and has now partnered up with Steven Soderburgh (Out of Sight) and formed Section Eight with which the two of them will produce movies. We have not seen the last of this man artistically by any means. Whether he is producing or starring in anything from here on out he is choosing projects for the story and not the money.
George Clooney has had a reputation for being a ladies man. All though according to some of the girls he went to high school with he was very shy. I am sure he has had his womanizing moments but I think he receives that reputation from being straight forward about his views on marriage and kids. He has stated over and over again that he will never get married again and that he will never have kids. He feels it is not something he was not very good at during his brief marriage to Talia Balsam, and, having kids is not something that should be taken lightly. If you bringing a human into the world you should be focused and committed to it. Apparently he is not. I would like to believe though that at some point he may change his mind. Not necessarily about marriage because I do not feel a couple has to be married to be happy, but about kids. Then again to each their own.
Sources: GerogeClooney.com
Related Posts