Giorgio Armani, a divine designer
Giorgio Armani is one of the most influential and famous designers in the world., particularly noted for his elegantly sober menswear.
Armani's biography
Giorgio Armani was born July 11, 1934, in Piacenza, Italy. One of three children, Armani originally wanted to become a doctor. As soon as he finished high school, a young Armani headed to medical school at the University of Bologna, but after 2 years he gave it up to pursue photography (it appears that he didn't like the siht of blood), before being called up for national service in 1957. Then, he worked in a department store, La Rinascente, as a window dresser. "My mother was the main reason I developed an interest in fashion. Though we grew up in post-war Italy and were very poor, she always ensured that my brother, sister and myself were immaculately dressed. She was herself an innately elegant woman."
From 1961 to 1970, Armani worked as a designer in well-known fashion house Nino Cerruti, where he acquired a great deal of experience in the field. Armani began a free-lance design business in 1970 with the encouragement of his close friend Sergio Galeotti, and established his own men's wear label, Giorgio Armani S.p.A., in 1974. A year later he introduced a womenswear line. His sister Rosanna Armani joined him as head of communication activities of the company; while his friend Galeotti died of AIDS in 1985.
In the early '80s, Armani saw the potential of getting his designs into movies, when he provided Richard Gere's wardrobe in 1980's American Gigolo. Since then, his creations have been seen on the Oscar red carpet and at Hollywood affairs, on celebrities like Jodie Foster, Michelle Pfeiffer, Russell Crowe, Benjamin Bratt, Robert De Niro, Leonardo di Caprio and Benicio Del Toro.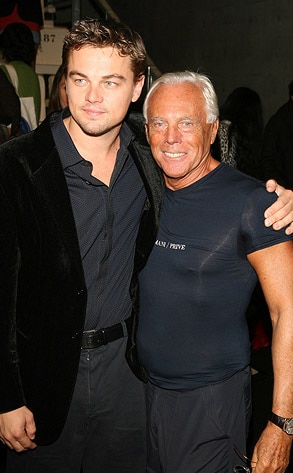 Success followed him in each step of his career, while he slowly created his empire of fashion. First, he launched Emporio Armani and Armani Jeans in 1981, the followed Armani women's perfume in 1982; Armani men's fragrance in 1984; Notturno telephone (manufactured by Italtel) in 1986; Giorgio Armani Occhiali and Giorgio Armani Calze in 1987; A/X Armani Exchange in 1991; Acqua di Gio women's perfume, Giorgio Armani Neve (Snow), and Giorgio Armani Golf, all in 1995; and Acqua di Gio men's fragrance and Giorgio Armani Classico for men and women, in 1996. Nowadays you can also get swimwear, underwear and accessories, for both men and women from Armani, and each of the lines preserve his characteristic classic and sober style.
As distinguishing features, he was among the first designers to ban models with a body mass index (BMI) under 18 (the minimum healthy BMI), after model Ana Carolina Reston starved herself to death due to anorexia nervosa. Also, in 1982, he was the first fashion designer to appear on the cover of Time magazine since Christian Dior.
In January 2007 Armani has become the first designer to broadcast an haute couture fashion show live on the Internet. The haute couture Armani Prive spring/summer 2007 fashion show was broadcast via Microsoft Corporation's MSN and Cingular cellular phones.
Review of Armani's Empire
Armani Exchange (A|X): The affordable collection was created in 1991 and is available in its 63 American boutiques & 45 international boutiques.
Armani Jeans: Created in 1981. The second-most inexpensive Armani Line features its denim collection. Other than denim, the brand also creates clothes for men and women. The normal average price of their jeans is around $195. It can be purchased in America at certain Neiman Marcus, Saks Fifth Avenue, and Bloomingdales stores. The Armani Jeans label has 30 boutiques in Europe & Asia.
Armani Casa: The high-end home collection by Armani features furniture, lamps, linens, and dining essentials. The Home Collection is expensively priced. For example, the highly acclaimed Tchaikowski Armchair retails at $9,985. Armani Casa is available at its 40 worldwide boutiques and select Neiman Marcus stores.
Armani Junior: This line that features clothing for children. It can be purchased at its 15 worldwide boutiques and select Neiman Marcus and Saks Fifth Avenue stores.
Emporio Armani: A more youthful inspired Armani Line that markets for younger adults. The line is the third-least expensive Armani Brand and can be bought at its 13 American boutiques and over 140 worldwide boutiques, making it the largest distributed Armani brand.
Armani Collezioni: The high end collection line of Giorgio Armani features clothing for men and women geared at the more professional lifestyle. In America, it is available only in high-end department stores and has 13 worldwide boutiques.
Giorgio Armani The Armani signature label is the most expensive Armani label and is available in its 75 worldwide boutiques.
Armani Privè: Armani's haute couture line made history being the first haute couture Paris fashion show to be streamed live online. The label is strictly made to wear and not available for purchase in stores but can be ordered and tailored at a very high price.
Armani Cosmetics: The beauty brand by Armani features cosmetics, skin care, perfumes, and colognes. It is available at many department stores worldwide and has very few boutiques.
Armani also invests in the fine dining industry. Throughout the world, he has 14 Emporio Armani and Armani Jeans cafes. There is also an Armani Bar in Hong Kong and his two new restaurants, NoBu & Prive, are found worldwide. He also has a bookshop (Armani Libri) and a florist (Armani Fiori) under the Armani name and a confectionery company known as Armani Dolci. These smaller brands are mostly sold within larger Armani shops, like the Milan flagship, 31 via Manzoni, and at the Armani/Chater House at 11 Chater Road, Central, Hong Kong.
The bottom 37 floors of the Burj Dubai skyscraper in Dubai, United Arab Emirates, will house the world's first Armani Hotel, and Giorgio Armani is also designing the interior of the skyscraper proper.
Giorgio Armani is set to launch an airline within the next three years.Called Armani/Air the airline will operate a high quality service in two class aircraft.The premium cabin will be called Prive/Air and will feature individual passenger cabins.The airline will fly initially from Milan and Rome to New York,Los Angeles,Miami,Dubai and Tokyo.
List of fragrances
Men
Armani Code
Armani Mania
Acqua Di Gio
Attitude
Emporio Armani
Remix
White
Women
Sensi
Acqua Di Gio
Armani Le Perfum
Armani Code
Emporio Armani
Emporio Armani Diamonds (Beyonce Knowles)
White
Armani's Personality
He is known as a workaholic, who can sometimes be rude and arrogant. His dislike of fellow Italian designers Gianni Versace and Valentino has recently been supressed for the benefit of the international press.
Armani has recently admitted what everyone already knew, that he is bisexual. In a recent Vanity Fair interview he said, "I have had women in my life. And sometimes men… to do this work, one must have a free mind."
Not that he would have a hard time attracting his share of women, especially with the promise of some free couture, but the ladies will have to settle for being a second choice since, Armani admitted to preferring men over women.
"My philosophy has always been to help women and men feel comfortable and confident through the clothes that they wear, rather than to create decoration for the sake of it." -Giorgio Armani
Sophia Loren says this of Armani's skills and talents; "Armani knows what women want. I feel comfortable wearing his clothes and I would excuse him even if he showed women naked! But I love his transparencies, it's a matter of now you see it, now you don't."
When asked about if fashion does ever bore him, his fast reply was: "Only when it's bad!"
Related Posts