Mens spring/summer 2009 collection!! Milan Fashion week
Last week, all the attention of the fashion world has been focused on the Milan menswear week as such prominent names in Italian fashion as Missoni, Gucci, Fendi and Ferre, with more than 50 labels in all, present best examples of their winter masculine couture in various venues of Italy's fashion capital.
Dolce & Gabbana
You know you're in for something slick when the bouncers at the show are wearing designer suits. And slick it was - in a nocturnal sense. The inspiration pyjamas, the accessories suitably slumberous. Noël Coward tassled shawls (accessory of the week), slippers and the just-got-out-of-bed stubble sat with elegant striped suits. bi-colored trousers in royal blue and black that mimicked the yoke of a beach boardshort.
Burberry
The creative director Christopher Bailey likes moody colours but they don't reflect his state of mind - his financial one anyway. Burberry has eschewed its "chav check" perception and its profits are soaring. Bailey's collection stuck to what he does best with layering, murky shades and raincoats. It may be a postmodern Burberry, but there'll always be macs
Prada
Not known for her love of convention, Miuccia Prada confirmed this to be one of her most mainstream collections. "I just changed the proportion," she said. Cue cropped jumpers and bare midriffs and, wait for it, dresses. Kind of. Elongated polo shirts had the look of a dress, but were paired with shorts and were a surprising success.
Emporio Armani
Only Giorgio Armani could pull in a front row that read like an Oscar list. Josh Hartnett, the face of Emporio's new fragrance, sat next to Ben Barnes, aka Prince Caspian of Narnia - both perfect examples of Emporio's aesthetic: young, sexy and together. The navy and grey palette was strong, but the key was the diversity - from casual, sophisticated tailoring to high-performance sportswear
Roberto Cavalli
Another designer who caught the Wimbledon fever. Oxford bags (loose trousers) were in abundance and were one of the most attractive looks of the week, thanks to their winning formula: volume on the bottom equals a slimmer-looking torso
Marni
shorts that looked like skirts, and billowing voluminous shirts.
Fendi
the biggest story so far – shoes with wedges, for men. Not content with the Cuban heel, Silvia Fendi wanted to add something feminine to the boys' shoes. Voila la platform wedge.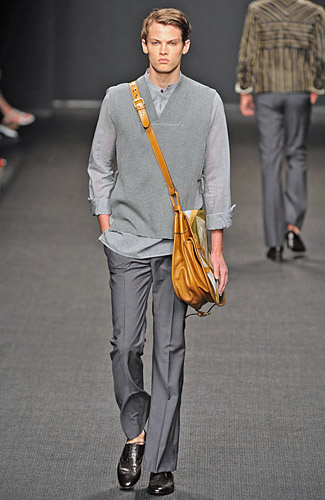 Calvin Klein
one word neon. Bright, bold, and requiring sunglasses.
Ermenegildo Zegna
classic tailoring in classic neutral summer shades – oh and two pink suits.
Belstaff
Lots of shiny patent macs and plenty of colour to end Milan men's fashion week.
Alexander McQueen
McQueen is a man who knows how to make the most of a silhouette. Colour blocking for optical illusions, narrow pleat trousers, wide-shouldered jackets: he turns fat into thin
Related Posts